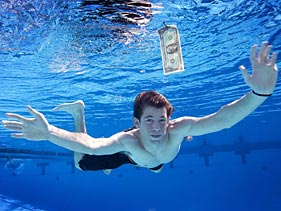 This baby is no longer available for full-frontal nude photography
1. The infant on the cover of Nirvana's Nevermind album is now 17 years old.
2. Over three months later, the state of Minnesota is still unable to determine who won the senate race.
3. A large Chocolate Oreo® Shake at Baskin Robbins is 2600 calories, 1220 of which are calories from fat.
4. A Chinese man made a woman deaf in one ear when he kissed her.
5. The winning bid to own the number 867-5309 (popularized by Tommy Tutone) in NYC was $186,853.09.
6. The name of the 18-year-old intern that openly gay Portland mayor Sam Adams had an affair with is actually Beau Breedlove.
7. Alison Krauss is now only one win away from having just as many Grammy Awards as Quincy Jones.
8. A Russian remake of the TV show Married With Children is so popular that Sony, the producer of the show, hired back the original writers to produce new scripts for Russia.
9. Ex-President Bush pardoned rapper John Forte, who was midway through a 14-year sentence for transporting a suitcase filled with $1.4 million dollars in liquid cocaine.
10. A Hawaiian Tropic Zone restaurant in New York City allegedly will not hire people unless they "talk white."
11. Joe the Plumber admitted that McCain "appalled" him and made him "feel dirty."
12. John Wayne once won the dog Lassie from its owner in a poker game.
13. This year, the number of people the Pentagon is employing solely for recruiting, advertising and PR purposes is 27,000, which is almost as big as the entire 30,000-person work force in the State Department.
14. Stevie Wonder produced Minnie Riperton's ballad "Lovin' You."
15. Former Vice President Dick Cheney had an uncredited cameo in Die Hard: With a Vengeance
16. South Korea, Taiwan, Austria, and Switzerland all have laws criminalizing adultery.
17. "Cwm" is a three-letter word in the Scrabble dictionary. (A cwm is apparently a circular basin with steep walls.)
18. eHarmony finally decided to provide its match-aking services to gays and lesbians … not out of financial self-interest, but because it was forced to do so in a lawsuit.
19. The city of Birmingham (the one in the U.K.) has decided to drop all apostrophes from its street signs.
20. Some Japanese people snack on blowfish testicles, despite the fact that it could kill you if prepared incorrectly.