1. A Brazilian ad agency proposed the above ad for the World Wildlife Fund that shows a horde of planes diving towards lower Manhattan's skyscrapers. (The WWF rejected the ad, but somehow it leaked.)
2. A White House report suggests that between 30-50 percent of the U.S. population could catch swine flu during the course of this pandemic and that up to 90,000 could kick the bucket from it.
3. Jay-Z has had 10 #1 albums, but has never had one #1 single.
4. Incoming Japanese Prime Minister Yuiko Hatoyama's wife, Miyuki, once wrote about having ridden in a triangular UFO to Venus.
5. You can now purchase an air freshener that purportedly smells like Nelson Mandela.
6. Prison guards in Florida have now zapped at least 43 children with 50,000-volt stun guns as part of Take Your Kids to Work Day festivities.
7. A Pakistani man drowned to his death during the taping of a Survivor-type reality show.
8. Palo Alto just hosted the United States of America's first National Single Cougars Convention.

Photo by Daniel Britt
9. Kazuo Matsui missed the first few weeks of the 2008-2009 baseball season because, according to the Astros' official website, he was suffering from "anal fissure."
10. 90% of the paper currency in the United States contains traces of cocaine.
11. The band a-ha (of "Take On Me" fame) just released its ninth album.
12. These are just some of the late Don Hewitt's (60 Minutes creator) accomplishments: (1) He invented the concept of B-Roll, (2) produced and directed the Nixon-Kennedy debates, which forever transformed presidential politics, (3) invented the concept of cue cards for news anchors, (4) directed and produced Queen Elizabeth II's coronation, and (5) and invented the idea of putting text on the bottom third of the screen.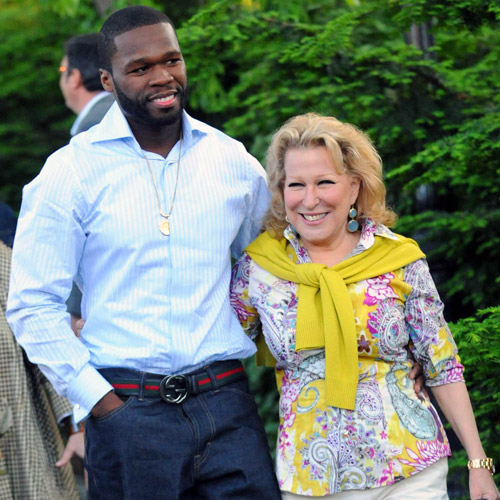 Divine Miss M Meets G-Unit
13. 50 Cent recently hung out with Bette Midler, who, by the way, once had an affair with Geraldo Rivera.
14. An affiliate of the Boy Scouts of America is training teenage Scouts how to capture illegal immigrants and fight terrorists.
15. Kid (from Kid 'n' Play) is doing local commercials for a suit store in Carson, California.
16. Federal Drug Czar Gil Kerlikowske has chosen to abandon the phrase "War on Drugs."
17. Redfoo of LMFAO is the son of Motown founder Berry Gordy.

18. Ben & Jerry's is renaming its Chubby Hubby ice cream to Hubby Hubby to raise awareness of marriage equality (which is great, though Chubby Hubby sounds more like an LGBT term to me).
19. Speaking of Jerrys, Jerry O'Connell is a 1L.
20. Finally, both Elmer Fudd and Bugs Bunny were apparently packing heat:
(with thanks to JT Money)